---
When it comes to global pandemics, the numbers really matter. Even more important is the growth rate in those numbers, which speaks to the transmissivity of the pathogen and how quickly it's spreading.
Today, the official government reporting on the coronavirus puts the number of infected individuals at 9,816, with 213 reported dead.
Seven days ago, on Jan. 23rd, the official numbers were 941 infected, with an unknown number dead.
This means in seven days, the number of confirmed infected patients has grown from 941 to 9,816. That's an increase of over 10X, or 1000%.
Software models of the coronavirus told us that the number of infected patients would merely double every seven days, but according to this trend, we're actually seeing a rise of 1000% in ten days: (note, this chart doesn't yet show Jan. 30th, which is even higher)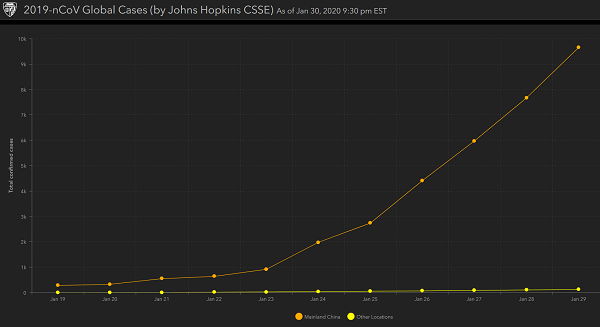 This new count from the South China Morning Post shows the current numbers of 9816 infected and 213 dead: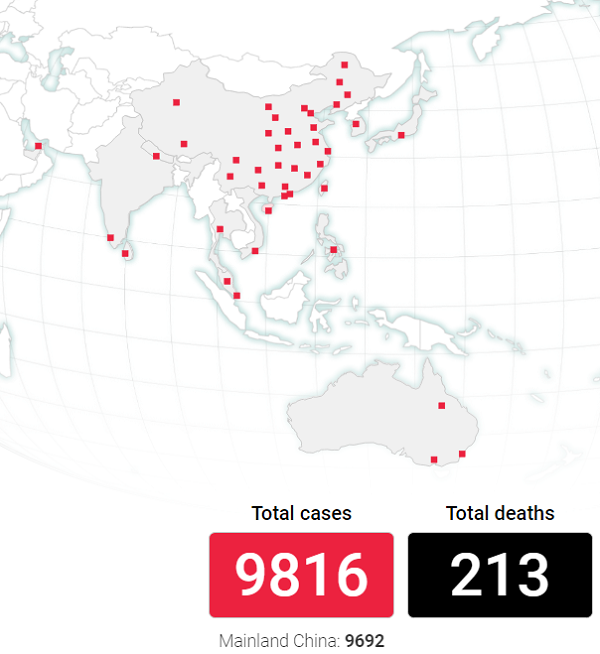 The rate of increase will likely slow in the days ahead
This increase rate cannot possibly be sustained and is likely to settle to a lower rate once the full effects of China's draconian quarantine efforts take hold. If China's quarantine is successful, we would expect to see a leveling off of reports of new infections. That would indicate the high transmission chapter of this outbreak would be waning, at least for China.
However, if the growth rate remains above a doubling of infections every 7 days or so, it means the pandemic is spreading outside the control of the quarantine.
Our best guess here is that this shockingly high growth rate won't last long and will begin to reveal a reduction in the rate of growth of new infections. That will likely happen over the next 2 – 8 days. If it doesn't happen, it means things are far worse than we feared.
In other words, we do not expect infections to grow another 1000% in the next 7 days. Rather, the rate of growth is likely to slow over the next few days. A more conservative estimate is that we will see a total of 20,000 infections 7 days from now (roughly a doubling of current infections), which is still an exploding pandemic, by the way. If the infections double every week, it doesn't take long before it's impacting millions of people.
Brighteon.com/bb1bc956-9796-44c0-b982-ee71abe42844